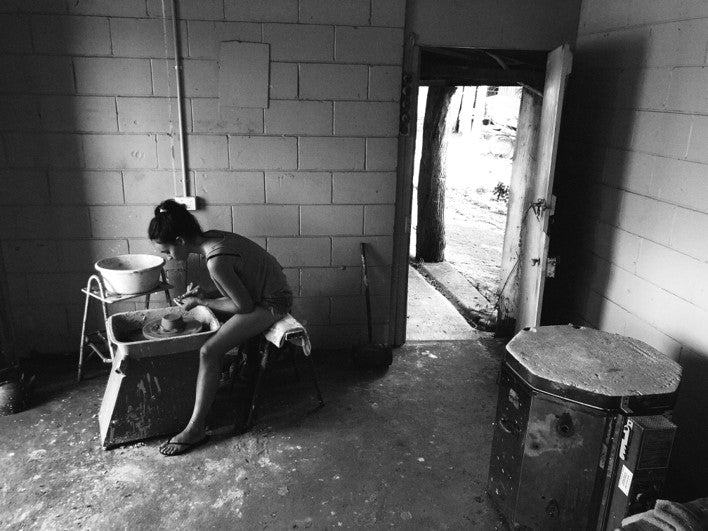 Hand Thrown Ceramic Candle Plate
Please select all options.
Our second collaboration with Kaye Crowther, we asked her to create a special ceramic plate for our candles. The results are just beautiful.
For those that collect Kateys work, you will know the beautiful glazes and patterns she creates.  Our other collaboration is also available where she has hand thrown ceramic holders for our tea light candles (click here).
Each plate is unique, hand thrown. This is fine work, but will put up with day to day living.
Available in nine main colour groups. The glaze colour and patterns vary of course, which is one of the wonderful things about ceramic art.
1. Sea green/ sand colour swirls- sold out

2. Deep blue with dark brown stars- sold out
3. Deep green and blue - sold out
4. Soft white with blue specks and a magenta/pink splash
5. Magenta with a cream splash and brown speckles Sold out
6. Soft magenta/pink and off white swirls
7. Light aqua wash with brown and purple blue stars- Sold out
8. Green brown with sand colour swirl/ splashes Sold out
9. Lighter blues with brown stars and magenta splash- Sold out
The plates are perfect for our pillar candles but also for the triple wick candle in glass. The photo shows the large "Spirit of byron",  the smaller "Byron Light" pillars and our Swirl candle on the plates.
Dimensions: 11 cm wide x 1cm high. Each one unique (hand made) and therefore the sizes will vary and the glaze so will be slightly different with each piece.
Limited in the numbers available. Most colour only have 5 available. Please don't hesitate to order yours.
Candle holders for pur Happy Lights hand made by Katey are here.