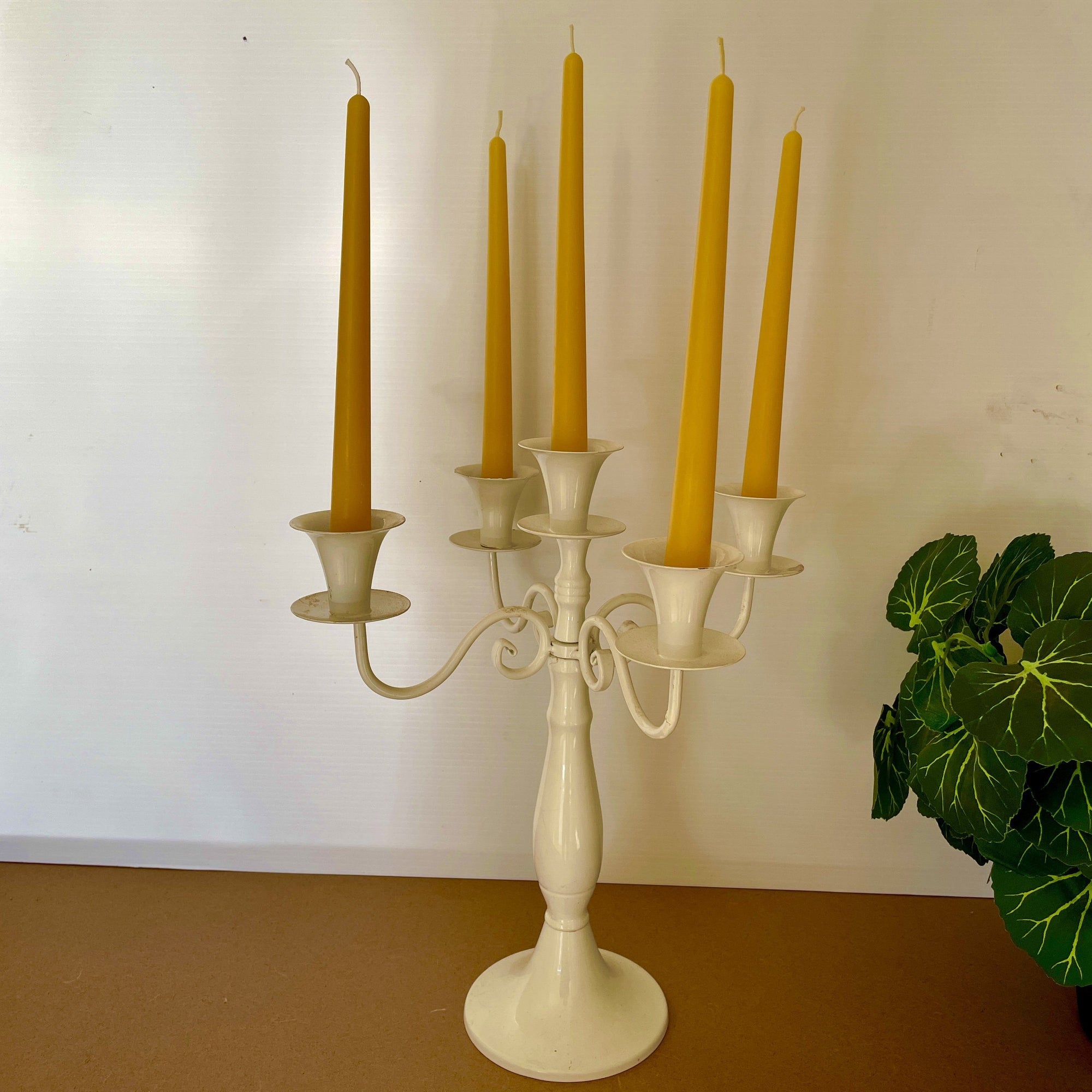 10 Hour Tall Beeswax Taper Candle
Please select all options.
100% local Australian beeswax. Choose from our conventional & certified organic beeswax.
100% Cotton wicks. No metal in our wicks.
±10 hour burn time for each candle
24 cm tall, 2cm wide at base.
Our tall taper candles are perfect for your dining room table or your chandelier. But we also feel they are the best "all rounder" candle to have in your home. Whether you need a candle for a 10 minute meditation or a dinner party that lasts all night, this is the candle for you.
Slim line, taper shape is a classic. This one will light your rooms up to 10 hours with a steady flame we are famous for.
24 cm tall and 2cm wide at the base, perfect for all candle stick holders. Easily trimmed at the base to fit smaller, older holders.The aroma on all our candles is just beautiful. Some say a sweet, floral aroma
Since 2016 Happy Flame has hand made beeswax candles in the Northern Rivers of NSW, Australia. 
Our beeswax is sourced from the local area and is renown for being the highest quality and cleanest in Australia. We do not add anything to our beeswax. Your candles are 100% beeswax. That means no oils, no additives, and definitely no other types of wax.  Our candle wicks are made of cotton, no metals or other nasty materials. These are 100% cotton wicks for your health.
Some kind words from our taper candle customers
These are the best candlesticks you will ever find. Amazing value and they burn strong and even and give out an amazing amount of light. The taller ones are great as they last longer so less candle changes. Highly recommended.
Jess
"I just received the beautiful candles today. Thank you so much for the fast shipping and for the beautiful and thoughtful packaging. All the items came without any breakage or damage and the  candles are just absolutely amazing. They smell extraordinary, burn beautifully and I honestly can't get enough of them. Really appreciate your hard work in creating such wonderful candles - can't wait to order somemore next time!"
Vivien
Sustainable candle wax and eco friendly
The only eco-friendly, sustainable wax for candles. Beeswax is the candle wax that nature provides for us. The bees create the wax and we harvest it with little disruption to their hives.  When the honey and beeswax is harvested it is only the excess the bees have made taken. In doing this, the bees continue to thrive and create more honey and wax. This ensures that the beeswax is truly a sustainable candle wax. Other candle waxes are created using chemical processes, not good for you or the environment. 
There is more information here (click link) about how other candle waxes are made and why beeswax is a better choice for your health.
Certified organic for a chemical free experience. If you would like to ensure that your beeswax candles are 100% chemical free, we offer candles made from certified organic beeswax. 
We have two beekeepers that are Certified organic, and we (Happy Flame) are also a Certified organic processor so you know the beeswax truly organic. 
Our beeswax is certified to be chemical free by a third party, Australian Organic. You will know will know the ACO logo. They are Australian largest certifier and best known.
The difference between our conventional and certified organic beeswax is shown here (click link)
Frequently Asked Questions
Is there a minimum time I should burn the Taper candles?
No there is no minimum time on the taper candles. This makes them ideal for meditation or short burn times. They can, though, be lit for the entire 10 hours , that is, there is no maximum time to burn them as well.
Do the taper candles smoke or drip?
No our taper candles are hand made to ensure that they do not drip or smoke in your home. If you take the candle in a room with a strong breeze or outside in the wind, the tapers may drip as the wind will push the wax over the edge.
Reviews from people who use these candles: