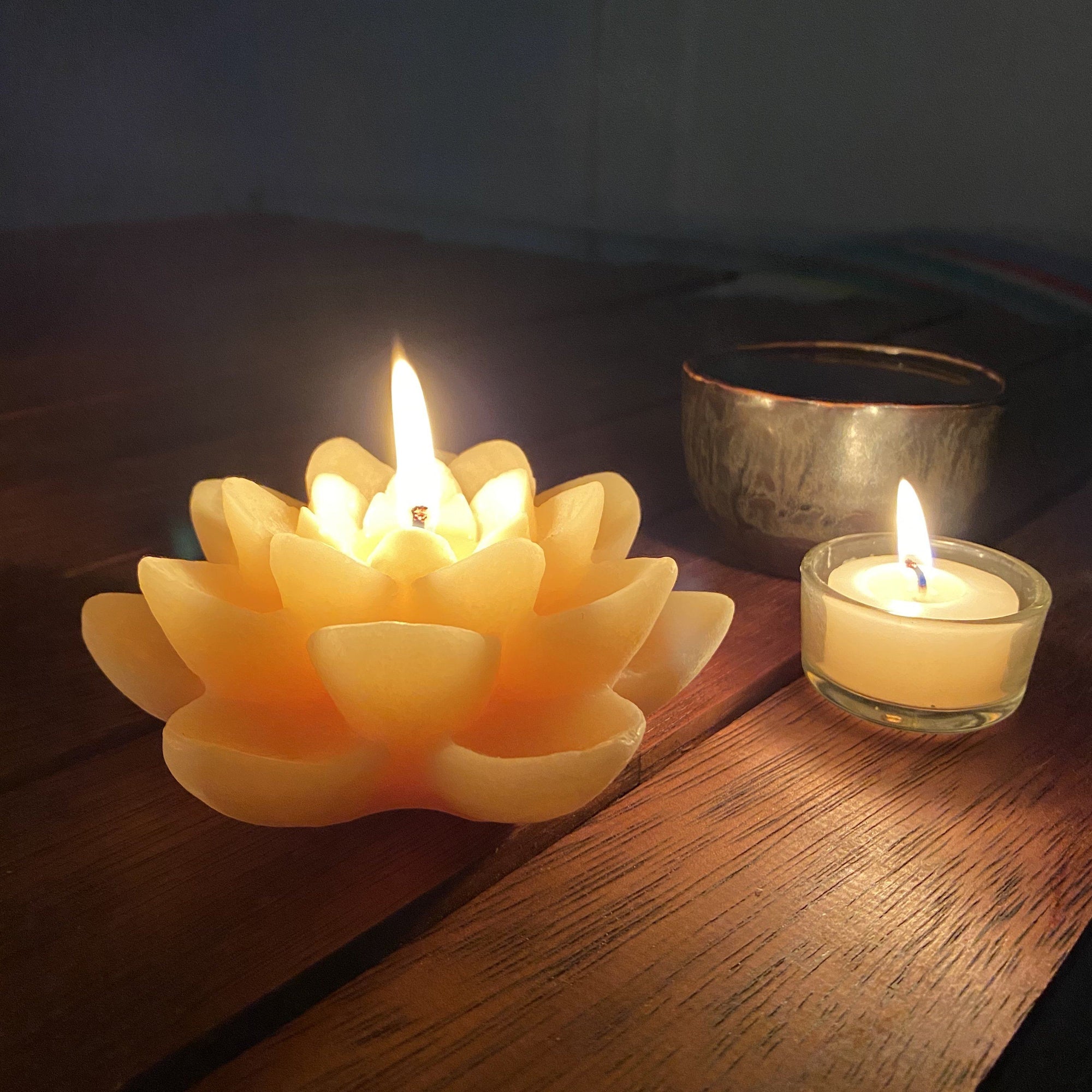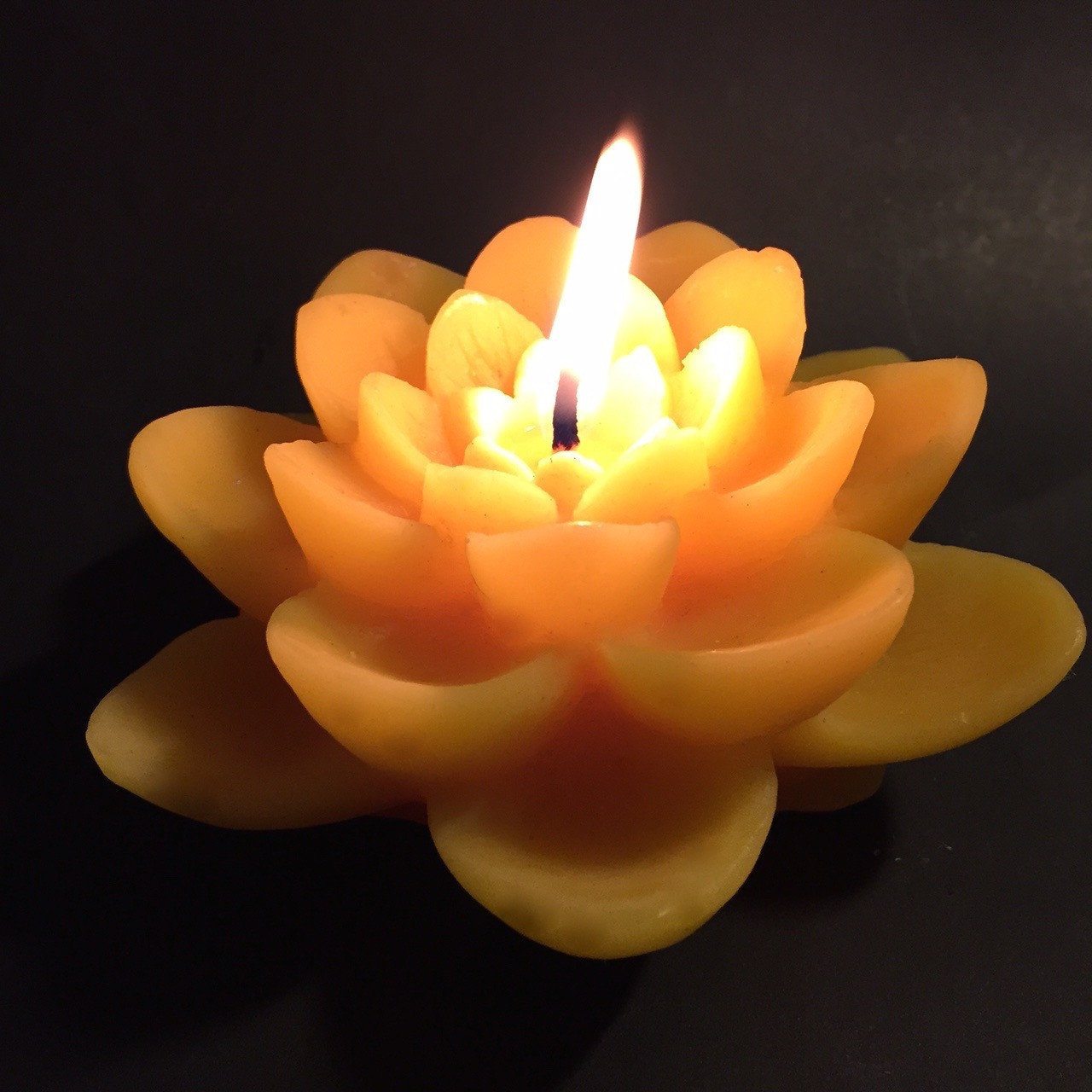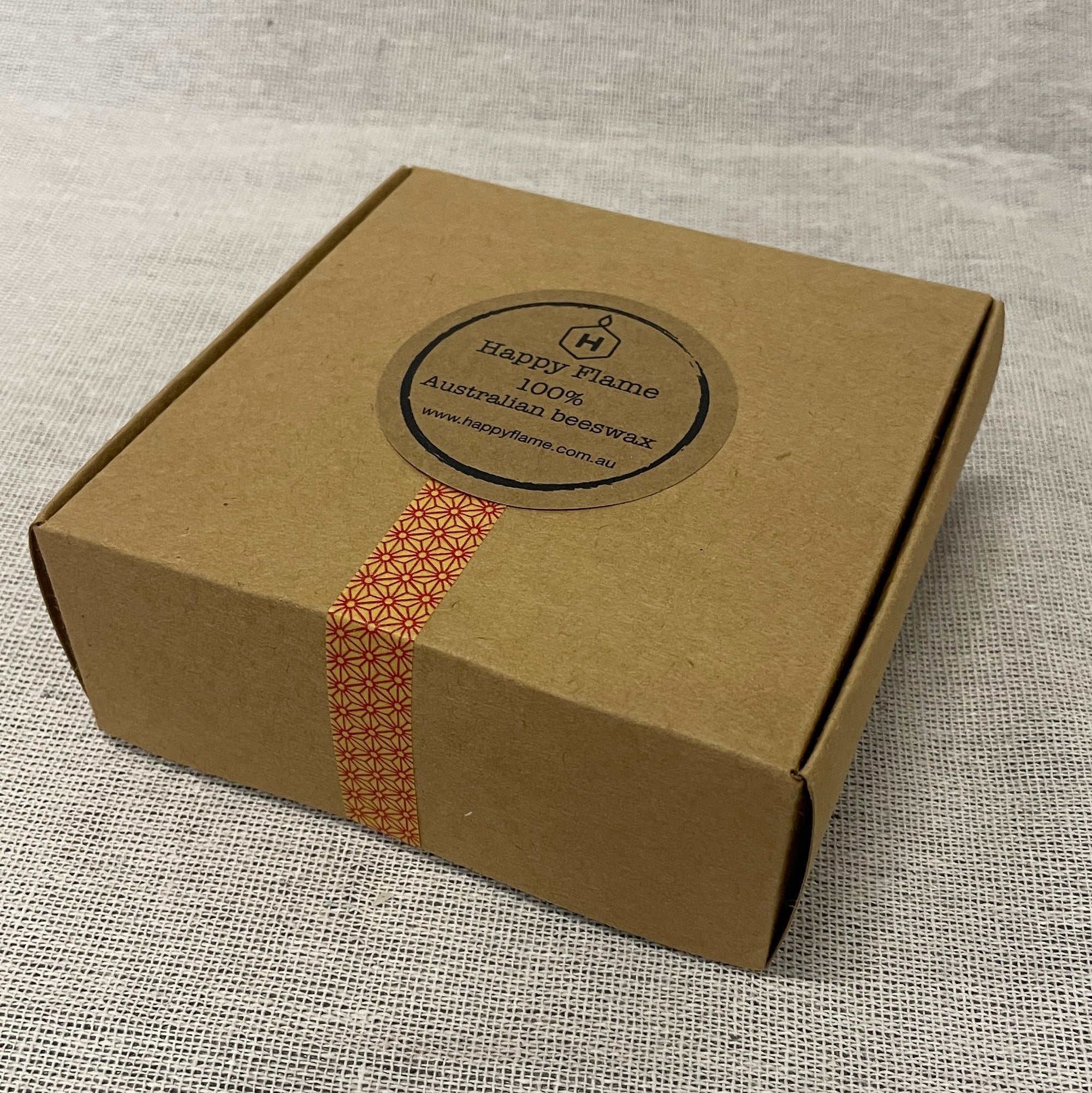 Double Lotus Beeswax Flower Candle
$21.00 $29.00
( / )
Unavailable
Please select all options.
100% local Australian beeswax. Nothing added

100% Cotton wicks. No metal in our wicks.
Beautiful natural aroma
Size: 12 cm wide and 5 cm high

SPECIAL OFFER: Includes FREE FLOATING LOTUS for a limited time!
The Double lotus is a beautiful feature candle for your home.
Four layers of petals create a substantial candle, 12 cm wide and 5 cm high.  The petals illuminate when the candle is burning and "catch" the beeswax if it happens to overflow ensuring it burns many hours.
Available in our beautiful natural yellow beeswax, this is the perfect centre piece for your table or altar.
Since 2016 Happy Flame has hand made beeswax candles in the Northern Rivers of NSW, Australia.  Our beeswax is sourced from the local area and is renown for being the highest quality and cleanest in Australia.

We do not add anything to our beeswax. Your candles are 100% beeswax. That means no oils, no additives, and definitely no other types of wax.  
Our candle wicks are made of cotton, no metals or other nasty materials. These are 100% natural wicks for your health.
Kind words from our customers:
I just received my first order of your beautiful candles and I was so 
excited to open them! It was like a present to myself! I was so 
delighted to see all the beautiful candles, they smelt AMAZING too. We have been going through a lot of candles lately and the beeswax ones we
have been using were fine, but these are really next level. I started 
using them straight away! Thanks again!" Clorinda
 It is such a joy to use your candles, burning them cleans our air and 
our state of mind, their perfume is close to divine, the light golden 
and gentle.  I have a candle burning all the time we are home and use 
them for blessings and a light toward universal peace and well being.  Plus they just make me feel good! 
Thank you very much for the care you take in product Liz
Sustainable candle wax and eco friendly
The only eco-friendly, sustainable wax for candles. Beeswax is the candle wax that nature provides for us. The bees create the wax and we harvest it with little disruption to their hives.  When the honey and beeswax is harvested it is only the excess the bees have made taken. In doing this, the bees continue to thrive and create more honey and wax. This ensures that the beeswax is truly a sustainable candle wax. Other candle waxes are created using chemical processes, not good for you or the environment. 
There is more information here (click link) about how other candle waxes are made and why beeswax is a better choice for your health.
Frequently Asked Questions
Should I put the lotus candle on a plate when lit?
Yes we recommending placing the lotus candles on a plate as they burn all the way to the bottom of the candle and so it might cause a hot spot on more sensitive table surfaces.
Do you add anything to your beeswax when making the candles?
No, we only use 100% pure Australian beeswax when making our candles. Nothing added.
Reviews from people who use these candles: