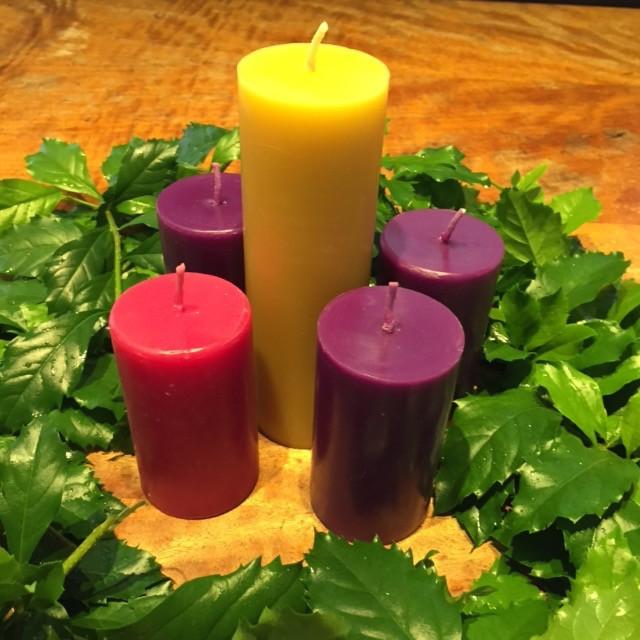 Advent Beeswax Candles
Please select all options.
Beautiful, natural Advent Candles.
 To mark the passage of the four weeks of Advent, we have made a special set of candles.
A tradition that was thought to have started in 1839 by a pastor in Germany. He put out 24 red candles and 5 white candles on a old cart wheel. Each day a small red candle was lit and a white candle each Sunday, counting down the Advent season.
Over time, the tradition was changed within different religions to include a wreath and the violet and pink colours, which we now make.

The set of three violet/purple and one rose candle has a burn time of 30 hours each.  You can also add a natural beeswax candle as the fifth "Christ" candle to burn on Christmas Day/Sundays to celebrate. (burn time of 50 hours).

All the candles are made from our local bees wax which we then colour with natural based dyes. You will love the bright, "happy" flame and the subtle, honey, aroma. A lovely way to mark Advent.
✓ Local Australian beeswax
✓ Hand crafted by us (Happy Flame)
✓ 100% Cotton Wicks - no metal

Kind on sensitive noses and the planet.
4 x  Advent candle set  1 x Rose, 3 x Purple:  $84.00

 Each candle approximately 9.5 cm high x 4.2cm wide. 30 hours burn time each

The fifth "Christ" beeswax candle:
1 x Natural Advent Candle:    $33.50
      Approx 16 cm tall x 4.2cm wide. 50 hour burn time.